Well, that's a tricky question! Some say: Healthy breathing is breathing in a certain way, diaphragmatically, for example (a Biomechanical approach). Others say: It's all about the oxygen/CO2 exchange (a Biochemical approach) or that it's about the rate and rhythm of your breathing related to heart rate and other stress factors (Frequency).
For Feldies, it's all of the above, except we'd never say that there's a certain way to breathe, biomechanically, that is the right or best way. Instead we bring our awareness to the process itself and expand, through gentle movement experiments, access to the various breathing patterns that can be added to one's life repertoire so that no matter what the situation – sitting, running, thinking, making love, speaking – our breathing system can optimally and comfortably adapt to the demands of the moment.
In the upcoming Feldenkrais® Summit 2021 – May 1 through May 10 – there will be a whole day of interviews, discussions and lessons on this topic called : ORIGINAL BREATH. And, yours truly will be a part of it!
Here's the line-up: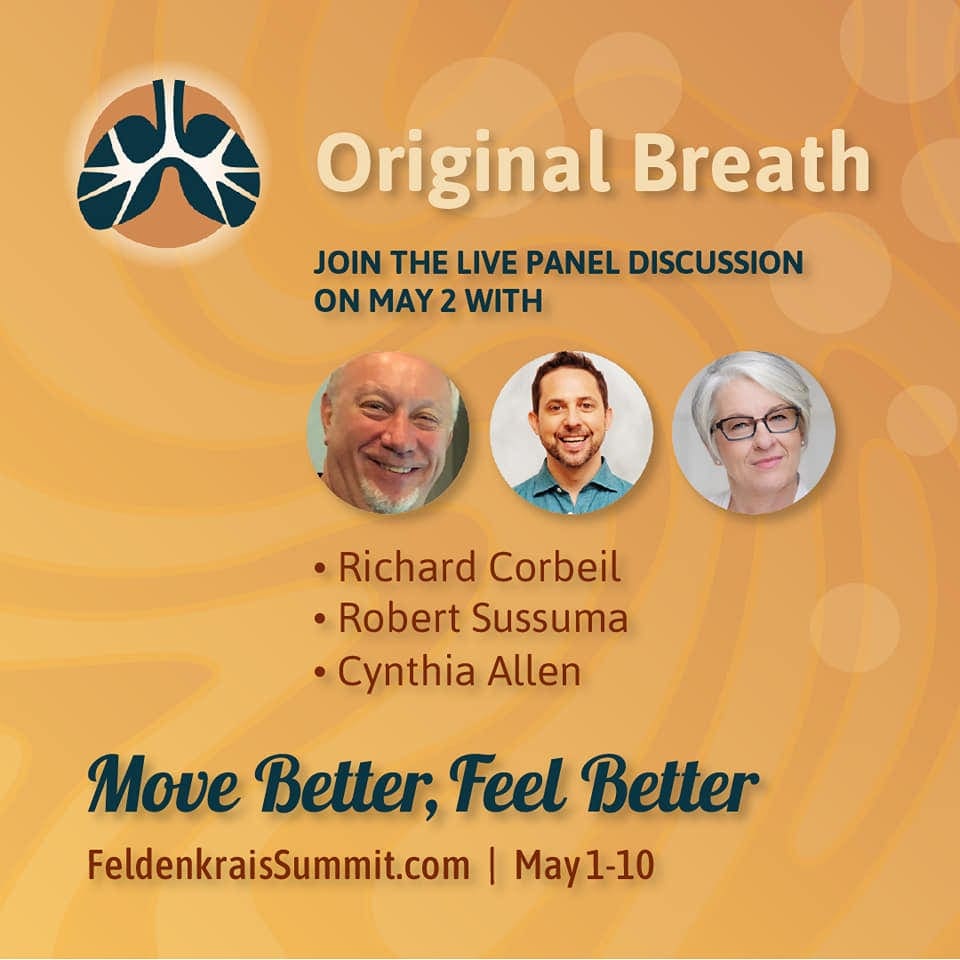 You join the Summit for FREE using this link
When you join you'll have access to some other goodies:
The discussion between Richard, Cynthia and myself to round out the day of talks on ORIGINAL BREATH. (May 2nd at 6pm NYC time)
A FREE giveaway from me (accessed through a link just under the video of our panel discussion) of 2 recorded classes of mine on the topic of breathing.
If you upgrade to the Unlimited Digital Access option, one of the things that comes with that is access to my 4-Class Series: MOULDING THE MOUTH – which explores oral posture and breathing the Feldenkrais® way… with many original lessons designed to update your understanding and use of your mouth, tongue, skull and breath for better voicing, health and LIFE!
The summit is almost upon us, so act fast!
If this topic interests you in general, I have many classes and lessons in THE SINGING SELF PROGRAM that explore the "ins and outs" of breathing, the simplicity of it/the complexity of it related to voice, posture, performance and more!