SENSE AND SENSUALITY I:
EXPLORING THE POTENT CONNECTIONS
BETWEEN SINGING AND SEX

WAIT… WHAT?!?!
What is this? And, it's FREE!?
Yup. It's free…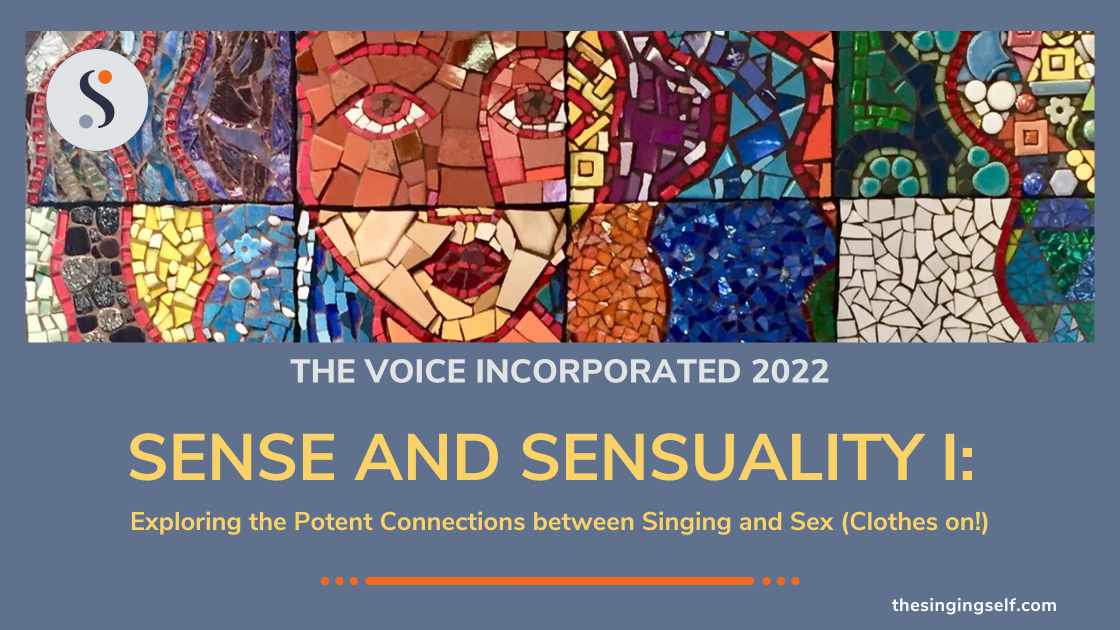 SENSE AND SENSUALITY:
EXPLORING THE POTENT CONNECTIONS BETWEEN SINGING AND SEX
SENSE AND SENSUALITY is one of the most interesting and exciting courses I've ever done.
As one participant said… it's "ground-breaking." And, although I would not normally say something like that myself, I totally agree! It is.
It is such an important topic to explore and work with – one that either gets neglected because it's too taboo and/or poorly understood AND/OR one that is cheapened, mishandled and creepified. AND I believe that I have done it not only in a professional manner, but also one that is open, empathetic and safe – especially for victims of sexual abuse and trauma – and inclusive of all genders, sexualities and genital possibilities.
And, on top of all of that, it's a fantastic learning journey that will open yourself to yourself (and possibly others) and totally update your body/voice connection in profound and important ways!
Here's the breakdown of the classes:
We started off with an intro to the series followed by a great discussion of each of our experiences with singing, sex and childbirth. Then we jumped in with an exploration that clarified the connections between the throat and pelvic floor across the entire torso by way of exploring the breathing and sound.
CLASS #2: THE PELVIC TANDEN
After a nice discussion about what's come up since last class, we did a bit of review and then jumped into an extensive exploration of the "Pelvic Tanden" – the energy center in the lower abdomen and how it relates to the organization of the torso and pelvic floor. We may also have gotten a little sexy along the way! 😉
In this class, just the people with vulva/vaginas got together for a beautiful discussion followed by a sensory movement exploration of the vagina, vulva, ovaries, bladder and more. These gentle movement with a lot of sensitivity and awareness awoke new connections and sensations for each participant.
In this class, just the people with penises got together for another beautiful discussion followed by a sensory movement exploration of the cock, balls, taint and anus. Taking the time to make 3 very important movement distinctions related to the penis shaft, balls and anus brought greater awareness and choice in the pelvic region for each participant.
CLASS #4: A TALE OF TWO TANDENS
After another lively conversation about genital awareness and the learnings from the GROUP V/GROUP P classes (and watching the other one too!) we clarified some crucial aspects from Class #2 then opened up a new can of worms (good worms!) with an introduction to and exploration of the "pharyngeal tanden."
CLASS #5: JOINING THE DOTS
After a beautiful conversation about self-connection and consent we got into some new and expanded explorations that brought greater awareness, integration and understanding to our singing/sensual self. 
Testimonials and quotes from the participants:
"These classes are incredible! So many new things for me and so many old things for me. Exploring all the places (and there are many) that I avoid is so helpful. They add an (big) extra dimension to my singing. (and I think to me as a person). After the last [4th] class, I sang with sensuality, which I, evidently, have never done before 😯. It was so nice to do so, and to feel that for the first time. Thank you for being you and for making these classes so safe and respectful!"
"The imag-a-vag class really surprised me! I wasn't expecting to feel anything at all, and I ended up with a deep sense of widening in the groin with the breath, and some vag-envy."
So… Why is it Free?:
As you can see, I really believe in the power of this work and it's relevance at this time. I want as many people as possible to benefit from taking this class! In short, I'm really proud of this series and I want you to be able to experience it!
AND… GUESS WHAT!?!
There will be more!
Because this series was so fun and successful, I'm planning to do SENSE AND SENSUALITY II in the Fall! So, if you watch S&S1 by then, you'll be able to attend S&S2… wouldn't that be fun!
SENSE AND SENSUALITY is already a part of THE SINGING SELF PROGRAM and TEACHER TRACK (my two online vocal learning programs), but, as you can see, I really believe in the power of this work, and its relevance at this time.